Gardening has become a trend in recent years. People living in an urban environment want to be closer to nature. In modern cities, we have fewer opportunities to have a garden. Limited space is one of the biggest challenges in urban gardening.
My project was focused on the goal of increasing gardening effectiveness through care features in a mobile application. Creating a useful tool to support beginner gardeners is a considerable challenge.​​​​​​​
UI/U

X Designer — Researching, User Interviews, Ideating,
Wireframing, In

teraction + Visual Design, User-Testing
Adobe Creative Suite, Figma, Miro, Zeplin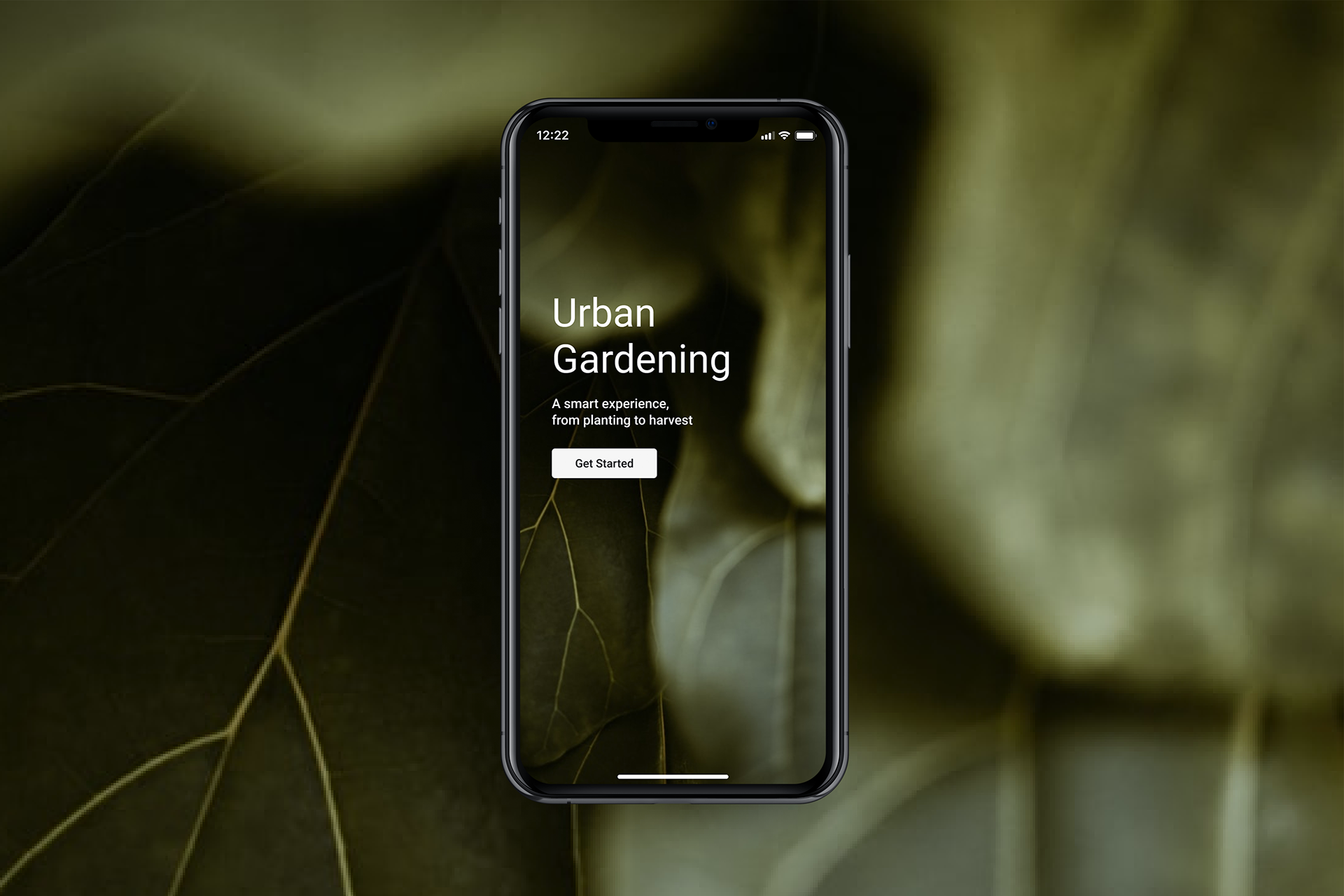 Most of Gardening apps are focussed on people with a garden, but not on people who want to try gardening on a balcony or indoors. Beginner gardeners face a lot of issues —​​​​​​​ how to organise a garden in a limited space, how to find out names of plants and how to take care of them correctly, how to remember when to water/fertilise them, how to find the right companions for plants, etc. With these challenges, their inability to realise their dreams becomes harder and they feel disappointed.​​​​​​​
'The main challenge was that plants dried out and died when I forgot to water them once or twice'
User with 3 years 

experience gardening
Since modern people usually have a busy schedule, Urban Gardening aims to provide them with a gardening assistant. With this platform, which solely focuses on caring features, users can track every step of gardening in order to enjoy the process and reach their goals.
Discovery: Research & Analysis
Research on this project began with understanding the core user: adults who want to do or who are doing gardening in their leisure time. I wanted to identify pain points, opportunities, and which needs might exist for new gardeners. This allows me to shape the direction in developing my product with all the important functions. With the interviews I conducted with a small group of users, I derived the following key findings:
Gardening apps are very ineffective for urban gardening and don't serve or benefit the customers beyond the primary objective of enrolment. This insight helped me to focus on a design solution with care and recommendation features.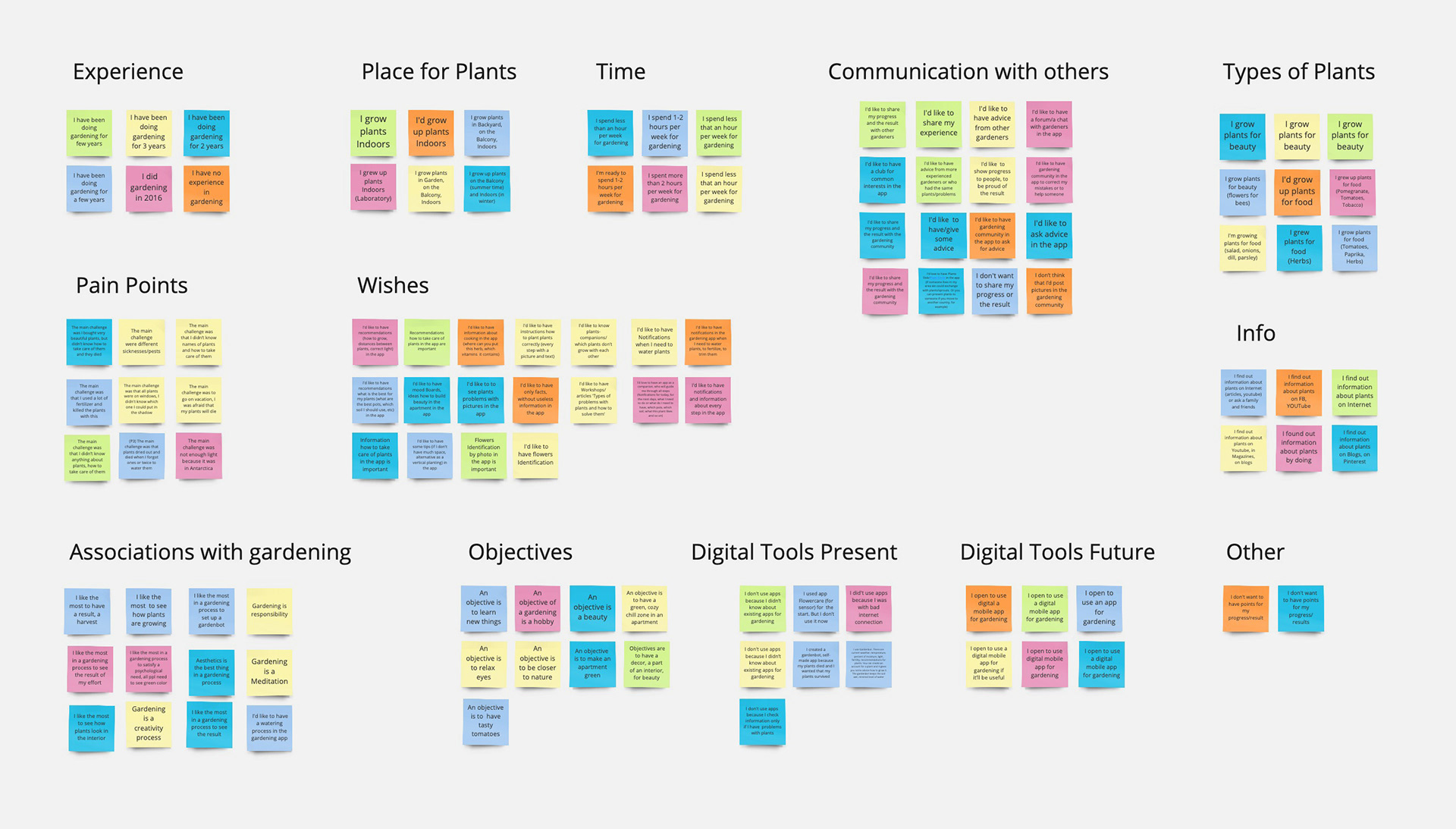 When translating the pain-points into ideas, I developed features for the product such as Plant Identification, Choose Plants to grow, My Plants, Care Calendar, Gardening Community, Workshops, Inspiration, Support and Feedback.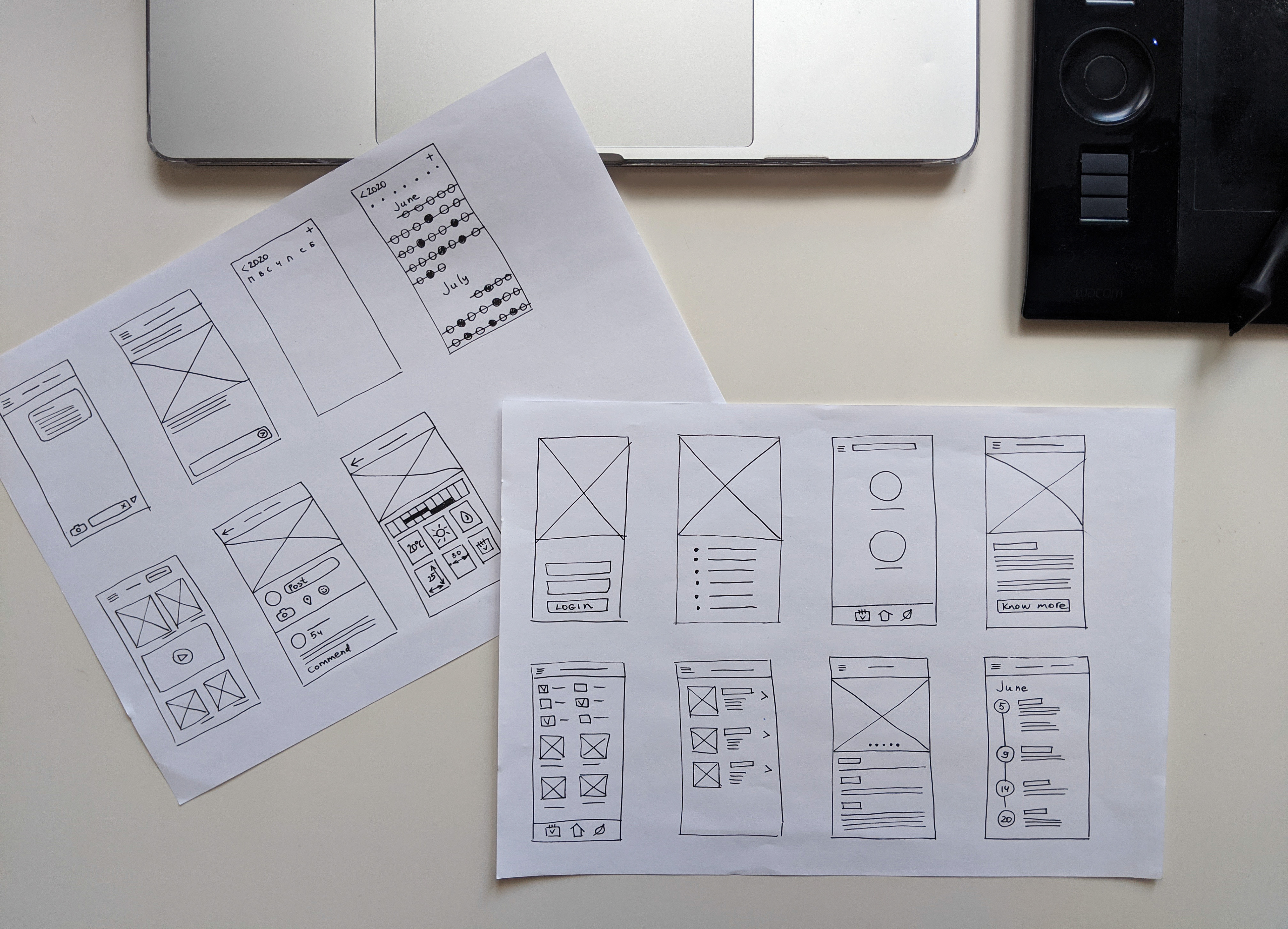 Strategic PrioritiSation. Design: Concepts & Sketching
In the prioritisation phase I chose the most important features for the MVP Design: 
— My Plants where users can see plants, care information and remove a plant
— Add Plant. Users can choose a plant to grow and add it to My Plants 
— Care Calendar with notifications. Users can see a to-do list for the next days and tick the current tasks they have completed.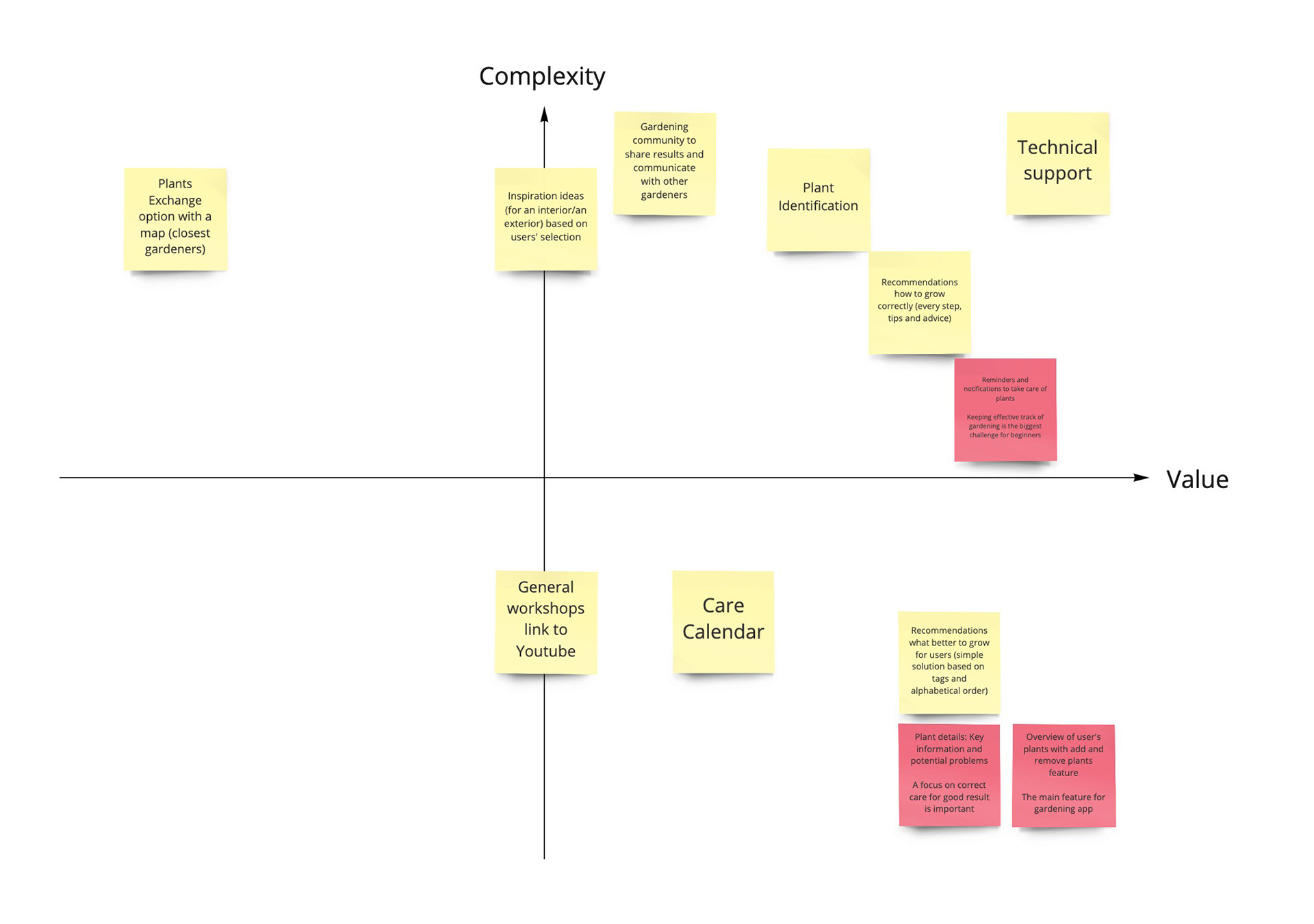 In this step, I developed a Low Fidelity Prototype and carried out a Usability Test and improved some details on the screens. I changed the Login/Registration screen on Get Started screen to get rid of a barrier for users. After I created the High Fidelity Prototype.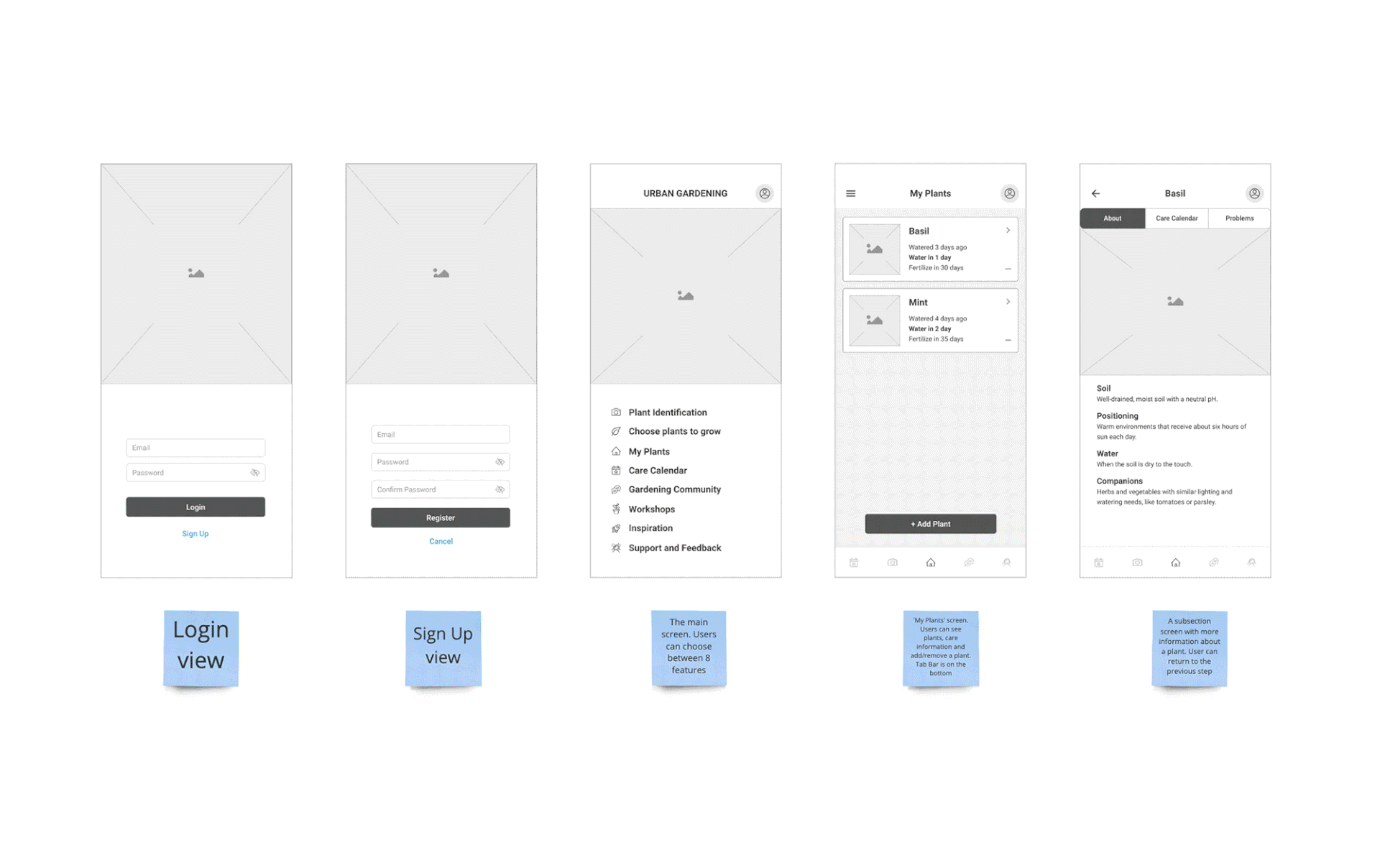 Test: Validation, Usability, Feedback
In this phase, I did a Usability Test with a target audience. I organised real-life scenarios and tasks for them. The attendees shared their thoughts while working with the prototype. Through this, I received very constructive feedback which helped me to better understand the main issues.
The flow could be more efficient if I reduce the amount of text in the app, add an opportunity to untick the task on the Care Calendar screen, differentiate the Water and Fertilise icons, and leave Navigation and checkboxes while scrolling the Add Plant screen.

Adding a personal touch, I wanted to give the app a friendly yet professional vibe. With these factors in mind, I incorporated monochrome colours and light, outlined iconography that allowed users to focus on gardening, not on an overloaded design. I prepared a Style Guide for engineers in Figma and in Zeplin.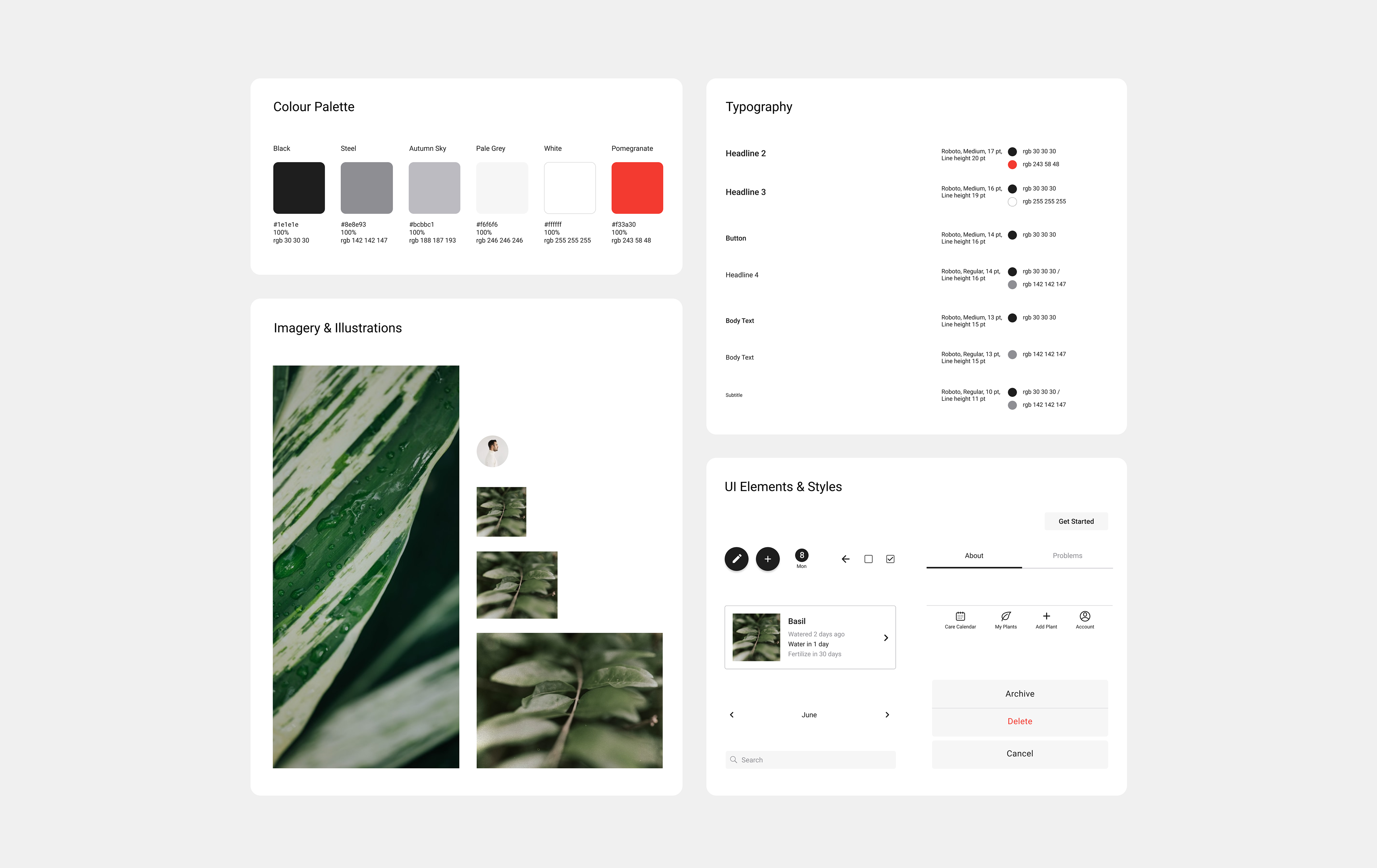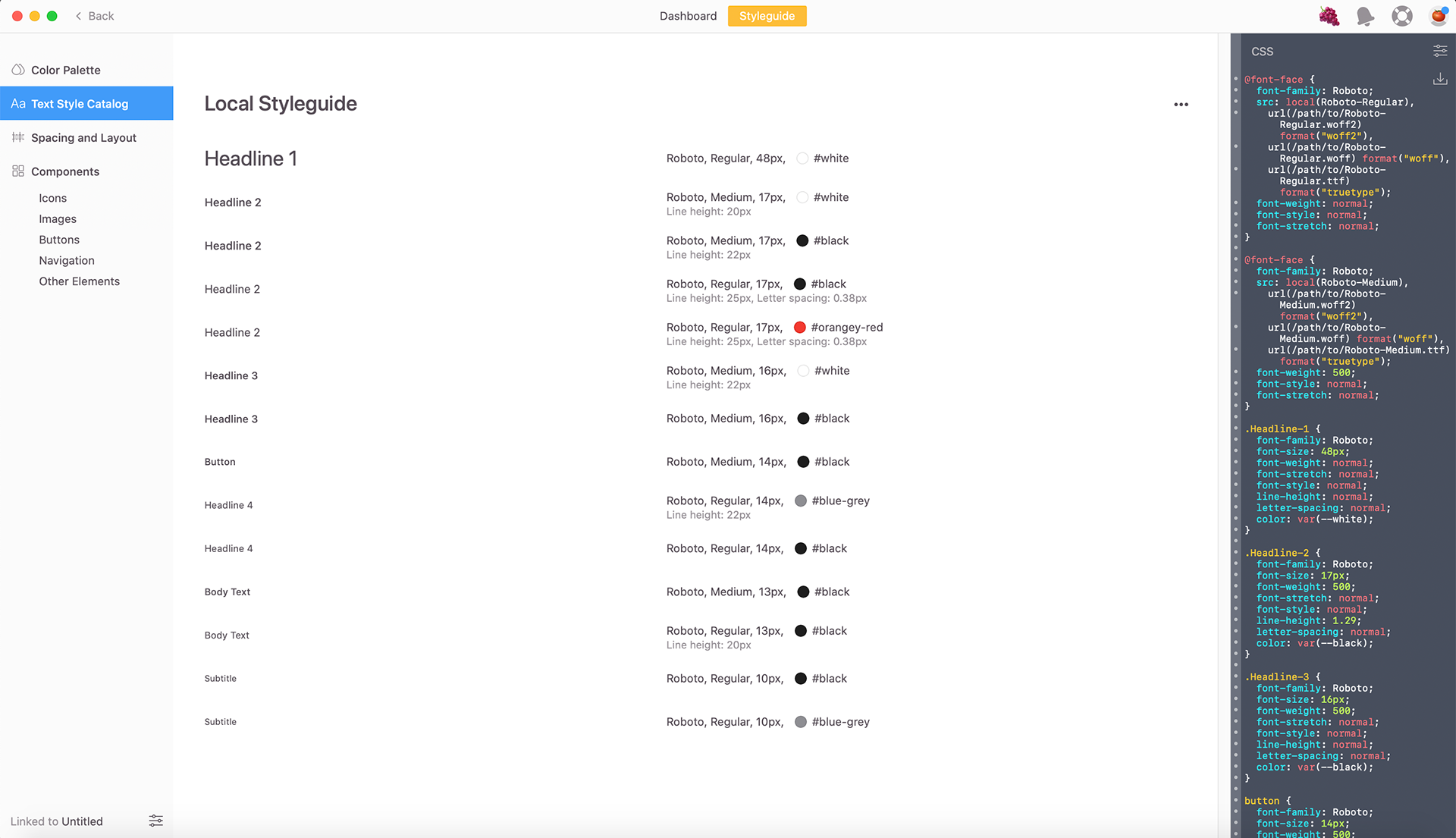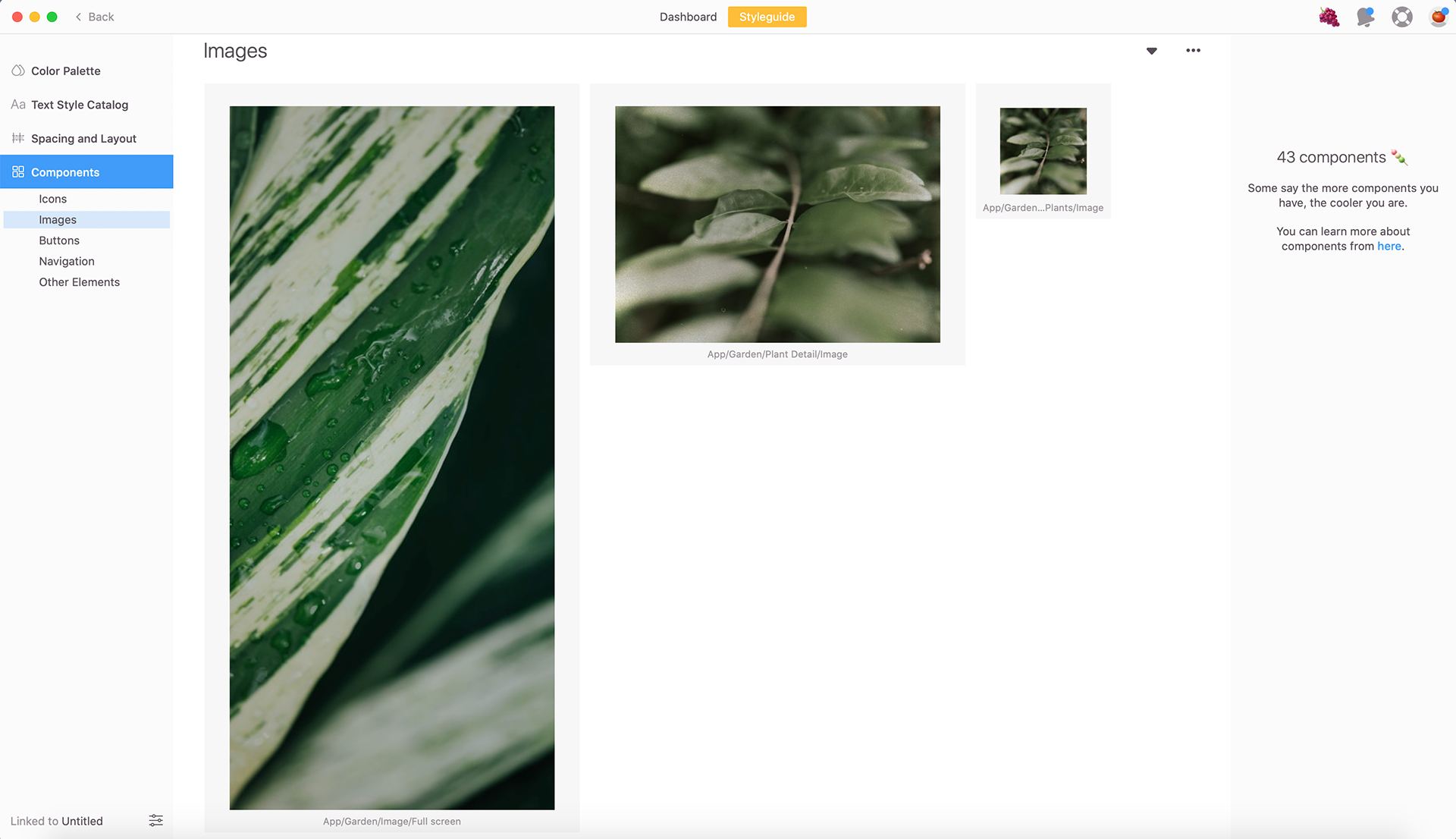 After Usability testing, I made a few modifications and improved the accessibility of the design for people with special needs.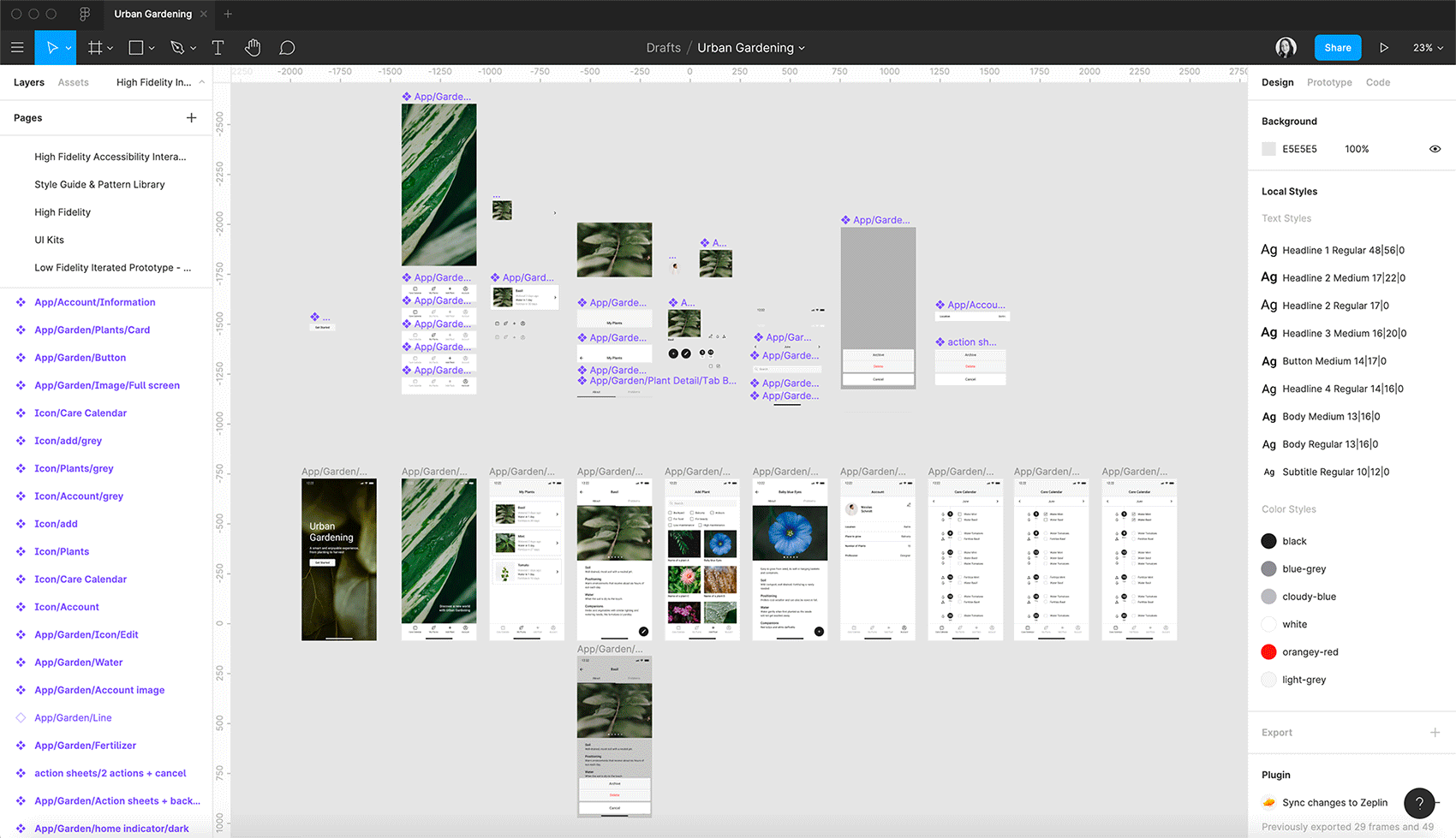 Latest Solution & Impact Overview
After two rounds of prototyping, user feedback, testing and final iterations, I delivered the MVP Design solution: 86% of users reported that this new design and its features would better support them in gardening.
Maintain a focus and don't assume users think the way you do
Discovering this insight through usability testing was extremely informative and validated how important it is to prioritise the users needs towards the established goals.
I had the opportunity to experience the empathetic mindset and process of a product designer. It was difficult to leave some interesting features of the app in favour of the more necessary ones in the first stage of development. All it takes is a willingness to listen, curiosity, and iterative approach to creating a product that users really need.